Become your true self
That means: learn to take off your mask from a fixed attitude, behavior, communication pattern based on (unmanaged) emotions from the past. Stuck emotions, such as unmanaged anger, fear, sadness and others, can prevent you from becoming your true self to bloom in your life. They can keep you imprisoned in armor of powerlessness, negative thought patterns, mood swings, etc.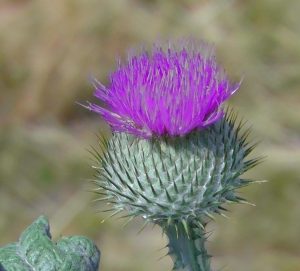 Plants blossom in a flower.
For example, a thistle with its spiky, hard leaves blossoms in a velvety fluffy bulb. The plant transforms its hardness into a soft flower or blossom.
Every plant and flower has its own healing effect.
How do Flower remedies work?
Flower remedies help to transform fixed hard emotional patterns into openness and softness. With this you can experience more harmony in your life.
Alvital uses flower remedies, so you can live through emotional tensions in order to grow on the path of life, become to your true self.
An example of a special blossom is that of the Aspen, which helps to transcend fears and increase your self-confidence.
Remedies come from Dr. Bach and from other sources.
Dr. Edward Bach (1886-1936) has laid the foundation for the flower remedies. He described 38 remedies that became the traditional Bach set. Then came the Californian, the Bush remedies and more, all following the principle of Edward Bach.